BAE Systems Jacksonville: Ship Repair's 'Destination of Choice'
By Greg Trauthwein
From government to commercial to megayacht owners and everything in between, the BAE Systems ship repair yard in Jacksonville, Fla. is well-positioned to prosper. David M. Thomas, Jr.'s , who at the time of our interview was Vice President & General Manager, Southeast Shipyards, Ship Repair, BAE Systems*, explains.
No matter where the conversation starts with David M. Thomas, Jr., it always seems to end in the same place: people. Particularly the importance of people to the operation and success of BAE System's Southeast Shipyards, Ship Repair yard.
"Safety is one of our core values," said Thomas. "By that, we empower everyone in the yard to stop the work if something's not right. But we take it to the next level. It is not that you have the ability to stop work, you have the responsibility to do so if you recognize something as potentially bad or unsafe. People are accountable for being a part of the solution."
Closely in step with core value number one is the second, in that everyone's voice matters. "From a temp to a new hire to a visitor, your voice matters; which leads our third core value in that we must constantly look for ways to improve. Speak up, make your voice heard, and look for constant improvement are my three core tenants for safety."
And not by coincidence, all of the core values revolve around people. "If this is not a safe place to work, I am not able to attract the employees that I need, I am not able to attract the customers to trust us with their ships," Thomas said.
In fact, since Thomas took command of the yard in 2014 (*Note: David M. Thomas, Jr., was recently named to lead BAE ship repair yard in San Diego after three years as Vice President & General Manager, Southeast Shipyards, Ship Repair, BAE Systems in Jacksonville), he credits a change in people skills as one of the leading changes at the yard during his tenure.
"One major improvement has been customer dialogue, that interaction with all of our customers to discover their needs and how we can fulfill those needs," said Thomas. "It is a willingness to not simply listen, but to leverage past experience to help with current needs."
Thomas realizes that the business of ship repair transcends tools and technical capability, as he looks to foster a true dialogue and relationship with customers, aiming to make his facility the preferred choice.
"I want to do great for all of our clients, and the phrase I like to use is 'destination of choice.' We want our customers to come here and see what we do – I'm happy to give them a tour – and then to come here with their work, and then to come back again."
And his means to achieve this end? You guessed it, an investment in people.
"We have invested in proactive outreach to our customers, which is an investment in having the right staff and ensuring they are trained properly," said Thomas. "This is a deliberate investment of our human capital."
Making his job and that of his staff all the more challenging is the diversity of BAE System's client base, which includes navy, other government customers, commercial repair and yacht owners.
"All (customers) are very similar in some regards, but each group has specific desires and standards," said Thomas. "Balancing that is critical. We have a staff with varied backgrounds and talent bases, and if this were football it's like having people that can go both ways: offense, defense and maybe even punt! So our team members have specific skills as well as the ability to adjust."
BAE Systems Jacksonville Ship Repair Capabilities


SUSTAIN AFDM-7 Floating Dry Dock
•Designed by Everett Pacific Shipbuilding Co. Jan 1945
•Purchased from the Department of Defense January 2008
•Certified by Naval Sea Systems Command
•Docked 200 vessels since June 2000
4,000T Marine Railway & Side Transfer
•Designed by Crandall Dry Dock Engineers
•Certified by Naval Sea Systems Command
•Side Transfer Capacity of 2,800 Long Tons
•Docked more than 800 vessels
1,000T Marine Railway & Side Transfer
•Designed by Crandall Dry Dock Engineers
•Third Party commercially certified
•Side Transfer Capacity of 900 Long Tons
•Docked over 660 vessel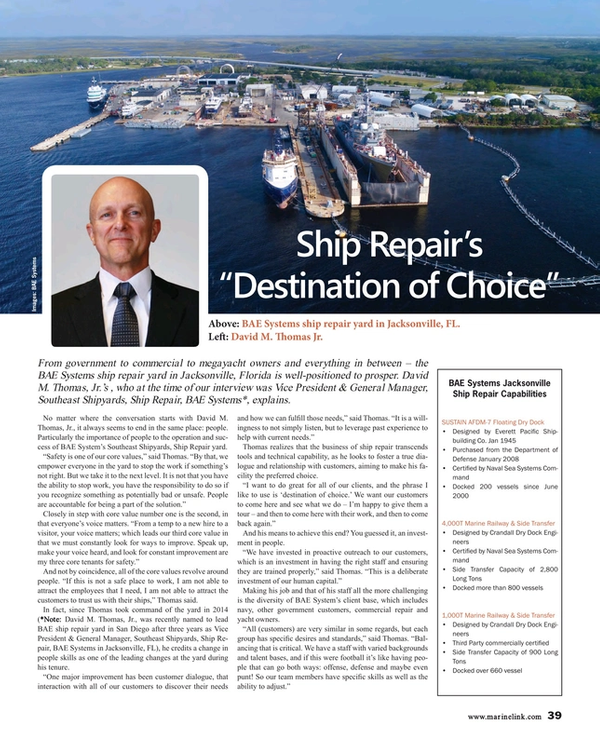 Read BAE Systems Jacksonville: Ship Repair's 'Destination of Choice' in Pdf, Flash or Html5 edition of January 2018 Maritime Reporter
Other stories from January 2018 issue
Content