Driving the Digital Ecosystem
By Kira Coley
As one of the most important megatrends this decade, digitalization is already moving beyond the concept of connectivity and data gathering towards a greater and more integrated future where the entire industry coexists as one digital ecosystem. As this vision becomes a reality, we will see a new era of partnerships, knowledge sharing, and AI-led practices. Disruptive technologies and ground-breaking projects have begun to transform the maritime landscape, and the opportunities that emerge from this transition will avail the innovators and organizations that are already embracing the digital frontier.
"Digitization and cloud computing are enablers for an industry that needs to remain relevant, cost-effective and drive value to all of its customers. We are an industry in change. But one thing is clear, digitalization is no longer the future, it is the present," said Marco Ryan, Wärtsilä's Chief Digital Officer and Executive Vice President.
In every corner of the maritime sector, organizations are talking about big data, digitization, and cloud computing. As a deeper understanding develops around these topics, many have begun to actively seek new ways to work across the value chain, discover new roles and solidify a place in an imminent, unfamiliar future.
Ryan explains, "Smart technology allows a much broader and horizontal approach to be taken across the industry, replacing the vertical view traditionally followed today. This means soon enough we will see a different approach to collaboration, competition, security, safety, and technology. And it really is something that is relevant to everybody because the entire industry is trying to work out what their role is in a slightly uncertain future where smart technology will no doubt impact the current business models, and change how we work day-to-day."
In November 2017, Wärtsilä announced its vision for a
Smart Marine Ecosystem
. By taking a broader and horizontal perspective, the ability to optimize across the whole process, from shipbuilding to operating ports, will add value and create greater efficiency for both customers and suppliers.
For example, operators at one major European port wanted to know if they could be informed when a vessel starts up. Rather than relying on the ship crew to tell port operators when they are about to leave, information about engine activity would provide a useful proxy and allow staff to prepare for the vessels departure in advance. For Wärtsilä, using ecosystem thinking, new value can be found in existing data that perhaps was considered unhelpful before, driving efficiency and modernizing the industry.
"There will be more of this ecosystem thinking and integration between what I call 'frenemies.' For example, not all ships are Wärtsilä top to bottom, they may have Wärtsilä engines but a competitor's E&A systems or they might have a competitor's engine and a Wärtsilä E&A, and sometimes there are hybrid technologies. The commercial value comes out of not just technology innovation and the use of that data to drive different commercial outcomes, but also in the ability for it to plug and play. As such, we will increasingly see a need for more partnerships between key players and competitors in the industry around specific standards and capabilities," said Ryan
"But also, when you have such a broad product range like ours there is a responsibility to help the industry modernize and change safely, in line with regulation but also at a good pace. Part of our Smart Marine strategy is to encourage that dialogue, open up to new partnerships and make sure that the hygiene factors around data interchange, cyber security, and infrastructure are available to support the business needs and the business values they create. This isn't about being seduced by technology, it's about focusing on the economic value that will help the industry transform."
Data: The Oil of AI
The arrival of digitization and big data has opened doors to new innovators in recent years. The low barriers to entry have seen a rise in the number of start-ups that now have access to an industry that has been historically difficult due to the significant capital investment required for long-life assets such as ships. Ryan said, "We are seeing a lot of start-up activity where they are taking advantage of digitalization and lower entry barriers by using an asset-light model such as Uber. I don't think there will be an Uber of the seas just yet, but a lot of companies, including Wärtsilä, are now actively involved at different levels with both start-ups and smaller businesses as they try to remain relevant and use new technology to provide a better experience at lower costs."
"But many are still focusing on the wrong question: who owns the data? The question should be: what rights do you have to use or collect the data to drive some commercial outcome? That is important because while there is a mass of data available it is in very different formats, very different timestamps and very different levels of data cleanliness and usability. And this is one of the big problems with cloud computing. Data hygiene and the concept of treating data as an asset on the balance sheet is missing in the industry."
Information such as GPS or basic routing is readily available to any start-up or organization. What is more difficult to obtain is automation and mechanical data around areas of asset management. It also tends to be in a less user-friendly format partly due to the age of the assets that includes vessels up to 25-years-old.
Cloud computing allows the industry to scale data and be more cost-effective, driving efficiency and allowing flexibility in how that technology and data is shared. But first, organizations must decide what part of their assets they need to have data on, to what level and the context in which that data is going to be used. "We get terabytes of data every day. Most of it we simply we don't store or use because within seconds it's irrelevant. For example, do I need to record every millisecond of information on an engine, during research perhaps, but during operations do I need just five minutes or hourly intervals? What level of data do we need to keep and for how long? But it's not just the ability to record data from a sensor or just share that data, it's also the security of that data, and the relevance of that data. This is where big data is important. For example, the use of sensors on toilet seats. If you look at it as a stand-alone issue, it has little value. As part of environmental ecosystem of a cruise vessel, then whether a toilet flushes 15 liters or 16 liters is important. Especially if there are 4,500 of them onboard and each toilet is used four or five times a day," said Ryan.
In the industry today, Ryan believes the lack of people focused on data creates another challenge that organizations must address. As start-ups and innovators continue to gain entry, we could find that data-focused services become more available in the future. This will be vital as cloud computing and modernizing services are not possible without 'good data'. As such, creating data standards will also be important in order to achieve industry-wide benefits.
Ryan explains, "Organizations such as Wärtsilä, Maersk, and RCCL, Carnival and others are all working on cyber security, artificial intelligence, cloud computing platforms, etc. But some of these things need more of an industry-wide approach and to be developed in partnership. There's no immediate commercial or competitive value for things like cybersecurity for example, so we need to stop thinking vertically and behave more like a united industry. The industry cannot evolve without digitalization and cloud, but likewise, those are just enablers as the industry and organizations change."
Full Steam Ahead
In October,
Wärtsilä opened its first Digital Acceleration Center (DAC)
in Helsinki with the objective to speed up innovation and co-create with customers a range of new business models and solutions. A second DAC was opened in Singapore in December, and during 2018 two more will be opened in Central Europe and North America.
Ryan said, "We have many projects going through the DACs, and they range from using artificial intelligence and machine learning to identify patterns in marketing activity to new ecosystem business models.
For all, understanding our customers' activities better so we can have a better conversation around data in the right context is critical. In a matter of weeks we can test, pilot, learn and understand what works and what doesn't at very low cost. If something is working and adds value, we can then commit more resources and scale it, creating relevance to the customer at a great pace. It also means that we are prioritizing and working on the right propositions that drive the right value during the industry's transformation."
One example of a project undertaken by Wärtsilä in collaboration with a vessel owner is the remote controlling of a ship's operations by satellite from 8,000 km. There is also the
Wärtsilä HY
: a fully integrated hybrid power module combining engines, an energy storage system, and power electronics optimized to work together through a newly developed energy management system.
"The value propositions will change in the future because of smart technology, and a good example will be manufacturing and 3D printing. As the cost comes down in metal printing, you could conceive of having 3D printers on board vessels. If a vessel can print its own parts as it travels around the world the implication on local manufacturing, supply chain and logistics in the industry is enormous.
Big data, digitalization and cloud computing is the present, not the future and it will just be increasingly part of the fabric of the industry as we become more digital, more integrated, and much more scalable. The challenge for the industry now is that in some spaces we are playing catch up, and the question we should be asking ourselves is how quickly are organizations able to adapt to remain relevant as we embrace this new frontier," said Ryan.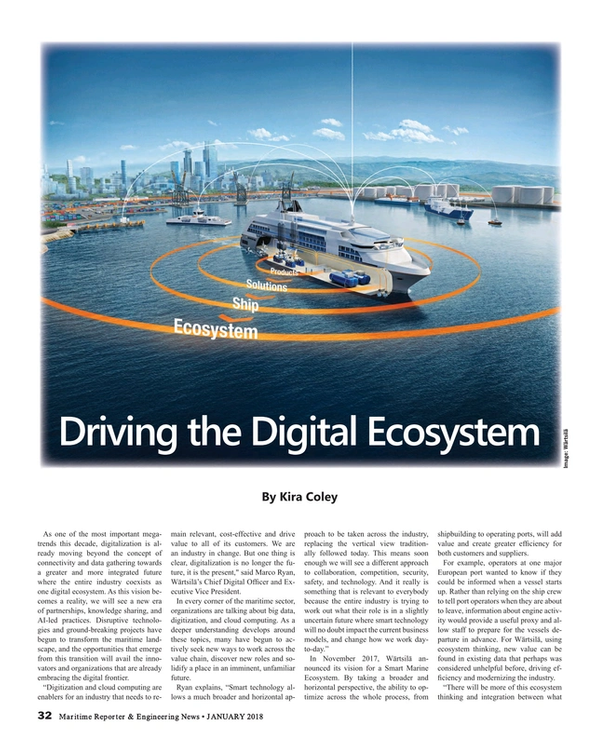 Read Driving the Digital Ecosystem in Pdf, Flash or Html5 edition of January 2018 Maritime Reporter
Other stories from January 2018 issue
Content