Wartsila s Dual-Fuel Engine Power Module For FPSO Upgrade
Wartsila Corporation has supplied a 5,800 kW Power Module to Bergesen d.y. Offshore AS, Norway, for installation on board the FPSO vessel Berge Hus. The Module, which is powered by a Wartsila 18V32DF dual-fuel engine, will burn produced gas.
Currently being converted into an FPSO vessel from a VLCC tanker at the Jurong shipyard in Singapore, Berge Flus is destined for operation on the Ceiba oil field off Equatorial Guinea.
Oil was reached in the Ceiba field by another Bergesen FPSO vessel, the Sendje Berge. in November 2000.
The sister ship Berge Hus will take over work on that field in the first quarter of 2002 to complete the planned 10 production wells and four water injection wells, and continue handling the crude oil produced from the field.
In the Power Module supplied for Berge Hus, the engine is a Wartsila 18V32DF dual-fuel engine with a maximum continuous output of 6,030 kW at 720 rpm. The complete unit measures 17.7 x 5.4 x 6 m (or 13 m including the exhaust stack). It weighs 201 tons for transport and 225 tons when in operation with all supplies (fuel, water and lubricating oil), and has fire insulation to class A60, and a noise level of less than 85 dB(A) at one meter.
The Wartsila 32DF dual-fuel engine runs simultaneously on natural gas and diesel fuel oil. Natural gas is supplied at a low pressure to the engine and is taken directly from the oil/gas production. The engine is fully capable of switching over from gas to liquid fuel (marine diesel oil or gas oil) automatically should the gas supply be interrupted, while continuing to deliver full power.
The Wartsila 32DF engine was introduced in 2000 to marine applications to meet the requirements of a new safety class for installations with a gas pressure of less than 10 bar in a single-pipe arrangement.
Whereas the gas-diesel engine (as in the Wartsila 32GD type) injects highpressure gas fuel into the engine cylinders, the DF type employs gaseous fuels at low pressures. In gas mode, the DF engine operates according to the leanburn Otto process. Gas is admitted into the air inlet channels to individual cylinders during the intake stroke to give a lean, premixed air-gas mixture in the engine combustion chamber. Reliable ignition is obtained by injecting a small quantity of diesel oil directly into the combustion chamber as pilot fuel. The DF engines use a "micro-pilot" injection with less than one percent of the fuel energy requirement at nominal load.
The Wartsila 32DF engine is designed to deliver environmental benefits. It has low NOx emissions, about one-tenth those of the standard diesel version.
An important contribution to satisfactory running of the Wartsila 32DF engine comes from the application of full electronic control. It uses an electronic control system based on the Wartsila WECS 8000 system.
Circle 198 on Reader Service Card www. maritimereporterinfo. com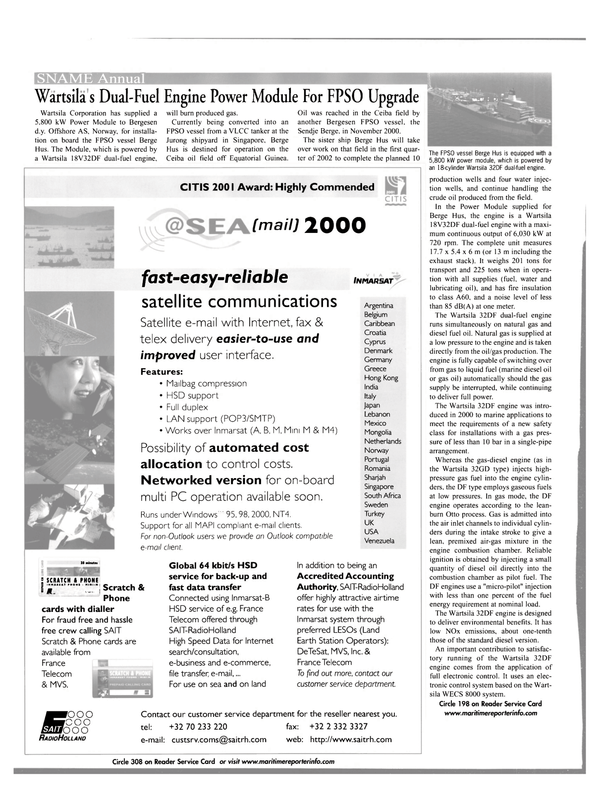 Read Wartsila s Dual-Fuel Engine Power Module For FPSO Upgrade in Pdf, Flash or Html5 edition of October 2001 Maritime Reporter
Other stories from October 2001 issue
Content