Self-Cleaning Filter System Cuts Maintenance Costs
A routine oil and filter change in the tight quarters of the engine room onboard a boat is normally a messy and awkward job. Buckets of used lube oil and filter cartridges must be lugged up the narrow galley stairs for disposal and new oil and filters must be carried down the stairs, all in the short time while the boat is in dock for maintenance, Boston Harbor Cruises found that Alfa Laval's Eliminator, an automatic self- cleaning filter system installed in com- bination with Cummins' Centinel system in its high-speed catamarans, saved $2,100 per engine per year in oil, filter and labor costs.
With a total of three boats, each with four engines, equipped with the Eliminator, Boston Harbor Cruises save a total of $25,200 per year. "After three years in operation, we are still seeing perfect oil analysis so extended engine life is an additional payoff," says Robert Tarrant, engineering manager for the Boston Harbor Cruise Lines.
The Eliminator consists of an Alfa Laval Moatti automatic, self-cleaning filter and an Alfa Laval disc-stack centrifuge in a single, compact integrated housing. These two sections comprise a complete engine-mounted oil cleaning system. The full-flow section utilizes a series of stainless steel mesh elements to filter the oil and protect the engine. A small portion of the filtered oil is used to backflush sections of these elements to prevent dirt from accumulating on the screen. The backflushed oil containing the impurities is then fed to the separator section of the Eliminator, which is a very efficient disc-stacked centrifuge that cleans oil down to a two-micron level. All dirt removed in the full-flow section eventually is deposited in the centrifuge sludge where it is easily removed. The only maintenance required is replacement of the sludge collection paper in the separator.
Service Intervals Increased From 250 to 1,000 hours The majority of the savings are the result of reduced maintenance hours as a result of extended intervals between service.
On average, each boat with four engines requires 12 oil changes per year, totaling 144 man hours. In contrast, service on the Eliminator and the Centinel engine is required at 1,000-hour intervals and takes only two to three hours per engine for separator maintenance and oil top-off.
Oil drainage intervals have been extended from 250 to 4,000 hours and, in some cases, indefinitely with good oil analysis results. "So far the oil is still golden brown instead of black; we've seen no soot at all in the oil and iron deposits were less than 13 ppm.
Cummin's Centinel system blends used oil with the fuel to be combusted in the power cylinders, which allows the oil to be converted to useful energy in the diesel engines.
Anything less than 100 ppm is not bad.
We have not noticed any oil consumption either," says Tarrant. "As a bonus, we expect to see 18,000 to 20,000 hours of service before the engines need a major overhaul. The normal interval between overhauls for engines not equipped with the Eliminator has been 9,000 to 12,000 hours of service." "There are other intangible benefits with the Eliminator filter system," says Tarrant. "Changing oil is not a fun job; you can put a price on downtime but not on aggravation and headaches. With the Eliminator, we avoid the environmental issues involved with disposing of oil and filters and safety issues with employees handling and carrying wastes up the galley stairs. Each engine needs 35 gallons of oil and that means 35 gallons of dirty oil that has to go up the stairs and 35 gallons of new oil that has to be carried down the stairs. The only waste product with the Eliminator is one piece of paper and that is the filter. This frees up our maintenance crew to perform other duties on the boat." Alfa Laval developed the Eliminator in the mid 1990s in cooperation with Cummins Inc. in response to the need for reduced maintenance and fewer spare parts in marine applications.
The Eliminator is installed on the engines on three of the Boston Harbor Cruises' boats, Nora Vittoria, Millennium and Aurora. The three identical passenger ferries, which measure 121 ft.
(36.8 m), have a capacity of 400 passengers, and can operate as high-speed commuter ferries and excursion boats for whale watches in the Boston Harbor.
They are owned and operated by Boston Harbor Cruises, which is one of the largest passenger boat companies in the country. Founded in 1926, the company has 175 year-round employees and 300 seasonal employees and owns and operates 25 vessels on the Boston Harbor and Narraganset Bay, carrying more than 1.9 million passengers annually.
Circle 7 8 on Reader Service Card www.maritimereporterinfo.com The preceding was authored by by Greg Schmelz, key account manager, Diesel OEM, Alfa Laval Inc., Greenwood, bid.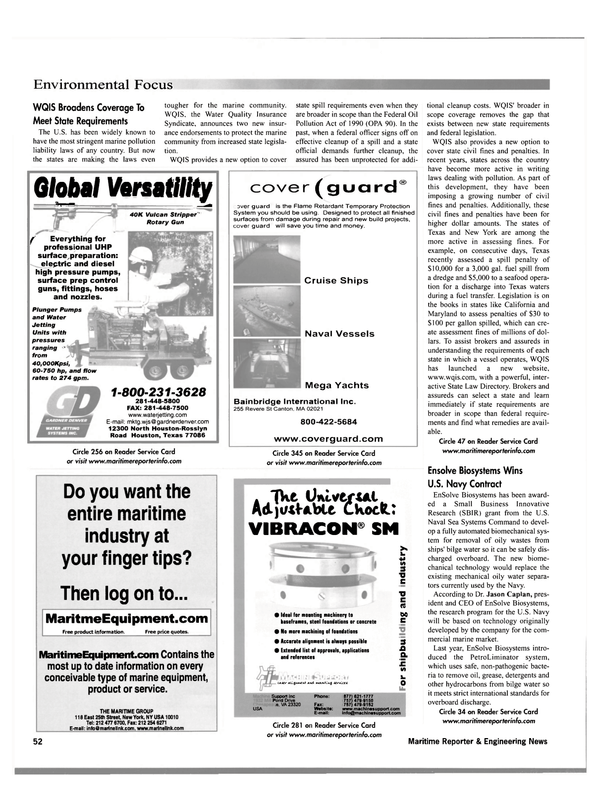 Read Self-Cleaning Filter System Cuts Maintenance Costs in Pdf, Flash or Html5 edition of October 2001 Maritime Reporter
Other stories from October 2001 issue
Content