Magnavox Introduces New Generation SatCom And New GPS/Transit SatNav Receivers
New Generation SatCom The first of a new generation of marine satellite communications terminals has been introduced by Magnavox Advanced Products and Systems Company (Torrance, CA).
The new Magnavox MX 2400 Integrated SatCom Terminal incorporates virtually every capability of earlier generation equipment plus 16 new communication functions.
Also included as standard equipment are many of the optional capabilities available at extra cost on earlier INMARSAT terminals. Further, Magnavox reports the new system incorporates provisions for virtually all of INMARSAT'S and IMO's planned future capabilities including those for the Future Global Maritime Distress and Safety System (FGMDSS).
The new terminal consists of a single, compact below-decks package combining the CRT workstation and the communication electronics into one space-saving unit. To reduce installation costs there are no separate power supplies or junction boxes. The below decks unit connects via an easily routed V-z -inch diameter cable to a compact antenna weighing less than 100 kilograms (209 pounds).
Cost savings extend to system operation with a built-in electronic mail capability to reduce traffic charges. A message length calculation feature helps to determine the cost of telex and electronic mail modes prior to transmission so that the most economical mode can be selected. With the addition of only a standard modem, text can be sent and received at up to 2,400 words per minute. Using an external word processor or computer text, data can be transferred at up to 9,600 bps.
In addition, the MX 2400 includes Remote Access File Transfer (RAFT)®, a feature which allows a shore operator to obtain specified ship's files from any telex machine or by electronic mail. The MX 2400 also incorporates the IMO Automatic Distress Message Generator to be required in the FGMDSS. Pressing one button on board ship notifies a designated shore telex of a distress or emergency situation, providing complete notification including the I.D. number, name, position, speed and heading of the vessel.
System management features of the MX 2400 include dual telephone circuits providing for two levels of user service and directing incoming data and voice calls to separate communications devices on the vessel.
User access codes can be used to prevent unauthorized outgoing calls and to log all calls by user name.
Daily traffic summary reports furnish a permanent record of all calls and messages.
Throughout, the Magnavox Sat- Com is designed for easy use. All operator selections are made from concise menus displayed on the CRT. Word processing functions provide convenient on-screen message preparation, storage and transmission.
Many operating features are automated. For instance continuous clock, calendar and tracking of ship's heading during a power failure eliminates the need to reinitialize the system after a power outage.
The phone user dials from a standard keypad telephone for all outgoing calls. The same telephone keypad can be used to control primary system functions, including selection of satellite and coast earth station.
A synthesized voice response provides automatic and positive verification that keypad commands have been properly executed.
For users requiring other communications modes, the system draws on a wealth of commercially available equipment choices. Standard modular telephone connectors permit plugging in standard telephone instruments and interconnect equipment such as data modems, facsimile machines and PABXs without requiring optional interfaces.
Also built in are interfaces for all planned INMARSAT and IMO capabilities, including the Enhanced Group Call Receiver.
Options include popular SatCom peripherals and accessories—200 to 9,600 bps modems, standby power sources, a magnetic compass heading sensor, and Busiship Integrated Ship Management and Communications System.
The MX 2400 exceeds INMARSAT'S environmental performance recommendations and meets internationally accepted standards for reducing electromagnetic interference.
For a full-color brochure containing complete details, Circle 87 on Reader Service Card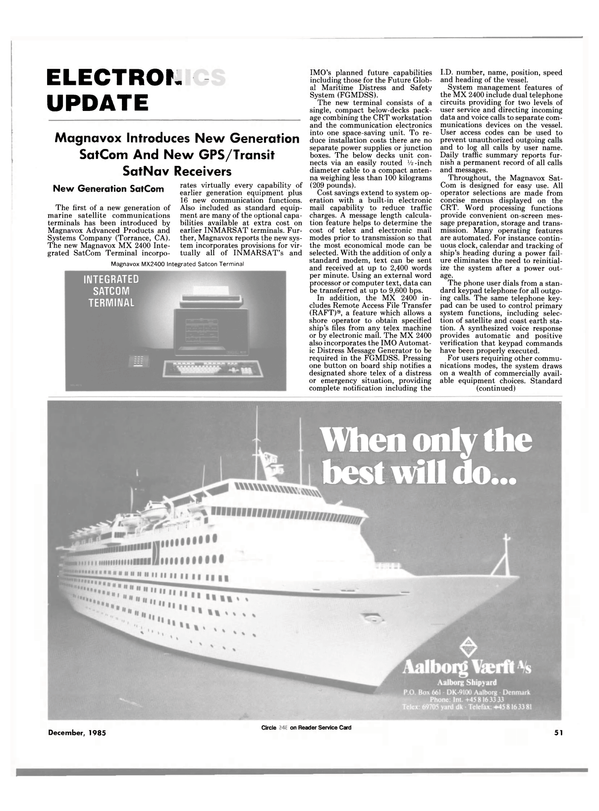 Read Magnavox Introduces New Generation SatCom And New GPS/Transit SatNav Receivers in Pdf, Flash or Html5 edition of December 1985 Maritime Reporter
Other stories from December 1985 issue
Content